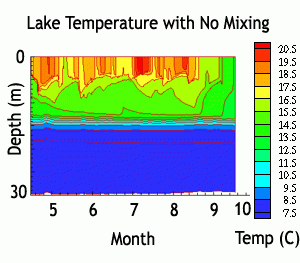 34,000 acre-ft reservoir with average inflow/ outflow of 100 MGD.
Strong seasonal thermal stratification.
DYRESM-WQ used to study water quality effects of artificial de-
stratification.
Lake Youngs Flow Regime Improvements
City of Seattle, WA

Lake Youngs is a small reservoir with a very high inflow/outflow flow rate. It experiences strong thermal stratification during the late spring and summer. During these periods, the mixing and diluting capabilities of the reservoir are significantly reduced as the flow tends to "short-circuit" the reservoir, flowing in a nearly direct path from the inlet to the outlet along the thermocline. This is a potentially harmful situation as high concentrations of cryptosporidium and fecal coliform in the inflow are directly transported to the outlet.Flow Science used the computer model DYRESM-WQ to study the water quality in the lake under numerous flow conditions and to evaluate alternatives for flow regime improvements in the lake, including the use of air bubble diffusers, selective withdrawal and mechanical mixers.It was determined that an air bubble plume would be the most cost effective method of improving water quality in Lake Youngs and Flow Science designed the air curtain diffuser system.